I read quite a few blogs from scrabpookers, cardmakers, mixed media artists and other creative people. For me, the best bloggers are the ones who blog often, who inspire me, and that I can relate to.
Out of the hundreds of blogs that I follow, I thought I'd share my five favourite. These bloggers are wonderful artists and teachers. I'm sure you will enjoy reading their posts.
1. May Flaum
"No rules, just happy crafting." That's the tagline for May Flaum's blog, which
is full of scrapbooking goodness. There are layouts, cards, tags, tips, and wonderful tutorials. May is a certified Ranger educator and you can count on her to show you how to use the latest Tim Holtz distress products or Dylusions.
The blog: Informative
The blogger: Friendly
The projects: Tips, tricks and techniques
2. Anna Dabrowska
Anna Dabrowka aka Tworzysko Finnabair isn't a prolific blogger, but when she does add a post it's definitely worth the wait. She is a true artist and, unlike other mixed artists, Anna applies her talent and techniques to scrapbooking layouts. I am constantly inspired by the way she layers mediums, stamping, sprays, paper and embellishments. I also love how she can achieve a soft romantic look that's also grundgy. No one scrapbooks like Anna Dabrowska.
The blog: Inspiring
The blogger: Creative genius
The projects: Bold
3. Corrie Jones
With a blog called
You, Me & Crazy
, you know that Corrie Jones is worth following. Her scrapbooking layouts are always stunning and she uses mists like no one else. I'm so inspired by her work and always look forward to her blog posts.
The blog
: Genuine
The blogger
: Cool
The projects
: Beautiful
4. Shimelle Laine
You can find Shimelle Laine and her super hero alter ego, Glitter Girl, as well as a few guest bloggers on pretty paper. true stories. (and cupcakes). There are sketches, layouts and videos on this blog. There are a ton of tips too, like how to use the last of your bits of a scrapbooking kit or how to mix & match papers from different collections and manufacturers or how to use pages from old books. I love how Shimelle has a very practical approach to scrapbooking.

The blog: Practical
The blogger: Quirky
The projects: Tips, tricks and techniques
5. Lilith Eckles
My Scrapbooking Venture
is Lilith Eckles' blog. Lilith creates wonderfully soft layouts with beautiful misting and layering. She doesn't write much (although she blogs in English and French), but her pictures speak volumes.
The blog
: Not very wordy
The blogger
: Unassuming
The projects
: Dreamy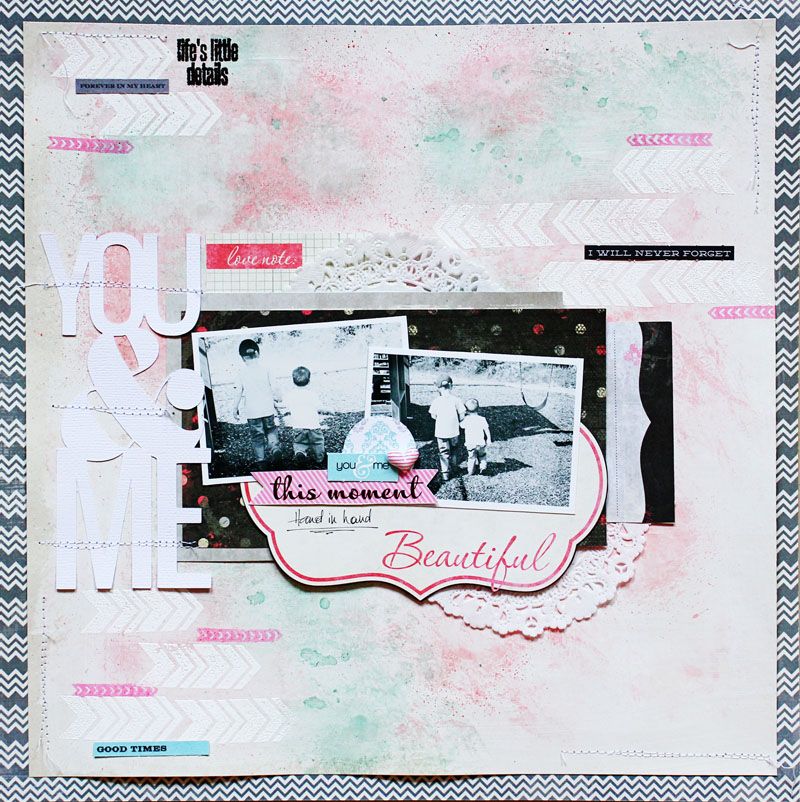 I would love to hear what blogs inspire you!