I love misting and spraying. Sometimes all you need is a light mist to add a bit of shine or a bit of colour. Other times, I spray using my thumb to get intense colour and coverage. Misting is really the easiest way to alter embellishments and paper.
It's almost impossible to show you how shimmery the mists with mica are in a photograph. In fact, a few years ago, I didn't understand what all the fuss was about until I saw my friend Diane's "Toy Story" layout. I was blown away by how much sparkle she got from misting. I was hooked. Now, I've found mists and sprays that have no glimmer, shimmer or shine, but I'm hooked on those too.
Here are my five favourite mists.
1. Colour Shine (Heidi Swapp)
Heidi Swapp released
her line of Color Shine sprays
at CHA Summer 2012. This is like no other spray I've seen. The shine is amazing. You really have to try it to believe it.
The good: Beautiful shine, especially on wood veneer embellishments
The bad: Not so good on ribbon
My verdict: Buy every colour
Amethyst Color Shine

2. Glimmer Mists (Tattered Angels)
Glimmer Mists are the granddaddy of mists. Tattered Angels has such
a wide variety of colours
and, although I have quite a sizable collection, I wish I had every one.
I love how some of the mists have a glimmer that is a different colour than the mist (e.g., True Blood has a red dye and black glimmer). Misting can be a little bit of a surprise -- you never now what you'll get, as Anna Dabrowska said in one of her videos -- but I think the sparkle is always worth it.
The good
: Super sparkles
The bad
: Clogged bottles
My verdict
: Surprise yourself and spray away

Fully Purple Glimmer Mist
3. Tim Holtz Adirondack Color Wash (Ranger)
I bought
Tim Holtz Adirondack Color Wash
in Red Pepper because I needed to alter chipboard for a Canada Day layout. There's no sparkle or glimmer or shine to these sprays, but I love how they cover my embellies so well. I really want all of the other colours!
The good
: Amazing on canvas and chipboard
The bad
: Limited number of colours
My verdict
: Spray with your thumb for maximum mist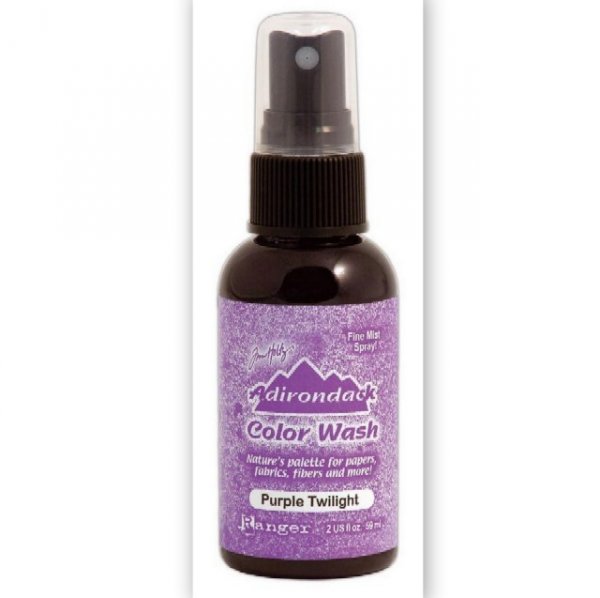 Purple Twilight Color Wash

4. Dylusions (Ranger)
I worked with
Dylusions
, another spray with no mica, during Anna Dabrowska's class. A little goes a long way with this one. The colours are also lovely and less intense when you add some water. I bought four bottles, but have yet to use them at home. What am I waiting for?
The good
: Intense
The bad
: Limited number of colours
My verdict
: Perfect for water play 

Crushed Grape Dylusions

5. Mister Huey's Color Mists (Studio Calico)
I used
these non-glittery mists
in Kelly Purkey's class at Crop and Create. I found them super easy to use. There's more dye per ounce than in other sprays, which means you get great colour and coverage every time. I could easily spend all my Friday evenings with Mister Huey!
The good
: Sprays like a dream
The bad
: Small bottles
My verdict
: The little engine that could so you should

I also like Smooch Spritz by Clearsnap, especially a light shimmering purple called
Mixed Berries
but I don't use them enough.
Lindy's Stamp Gang
makes some awesome sprays but I really have to keep myself in check. Or do I????
I've used mists and sprays on layouts, fabric and paper flowers, wood and chipboard embellishments, mini-albums and art journals. All I have left is to try them on cards!
I would love to hear about your misting adventures!