"Is it summer yet?" my son asked. My answer: "It feels like summer so let's enjoy it!"
We have been enjoying beautiful sunny days that I wish could go on forever. It does mean there's a little less time for scrapbooking -- but I always find time!
The blogosphere was a little quiet, but I found some really beautiful projects online that I think you'll just love.
1. Julia Stainton from Belle Papier made
a beautiful card
using layers and what she calls "seamless stamping." Wow!
a dollhouse stove
with Bo Bunny's Country Garden collection. Absolutely amazingly beautiful.
Photo credit: Bo Bunny
3. Jennifer McGuire used Copics to colour my new favourite -- wood veneer embellies. These embellishments also take Glimmer Mists, Distress Ink, stamping, Smooch and anything you throw at them. Jennifer used her embellies on
some great cards
. I love this one.
Photo credit: Jennifer McGuire Ink
4. Rose from
Mokacrafts
posted this super cute 3D paper apple she found on
Krafting Kreations
. I have to make this!!!
Photo credit: Krafting Kreations
5. I was super lucky to take a class with Cari Fennell on National Scrapbook Day. Instead of coming back to Canada, Cari made
a few really beautiful tags
. ;-) Miss you Cari!! This one is my fave.
Photo credit: Cari Fennell (Me and My Mary Janes)
6. Emily Pitts from Scrapbook and Cards Today has a good post on understanding
different mists
. She does focus more on Maya Road Mists -- which I LOVE.
7. Mandysea from A Teacup of Scrapisms made
a mini-album
which really grabbed me (and in the right way). Love these colours and the landscape orientation.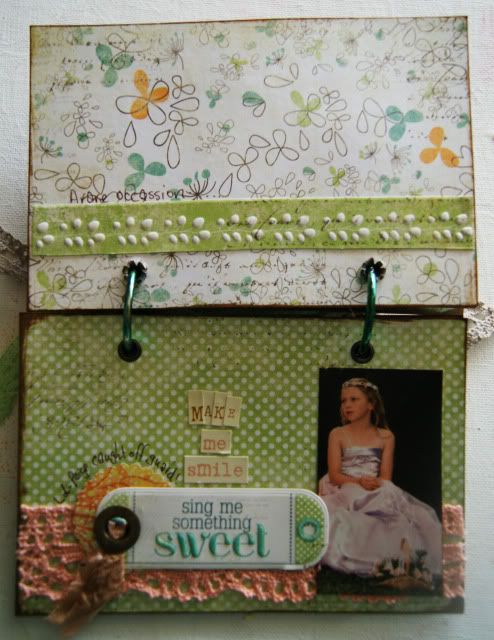 Photo credit: Mandysea (A Teacup of Scrapisms)
8. Heidi Van Laar made some
lovely blue flowers
using watercolours. The flowers are part of this stunning card.
Photo credit: Van Laar Designs
Creativity is always beautiful. I hope you get some time this week to create, laugh and play!